Star
Wood Line Barbecues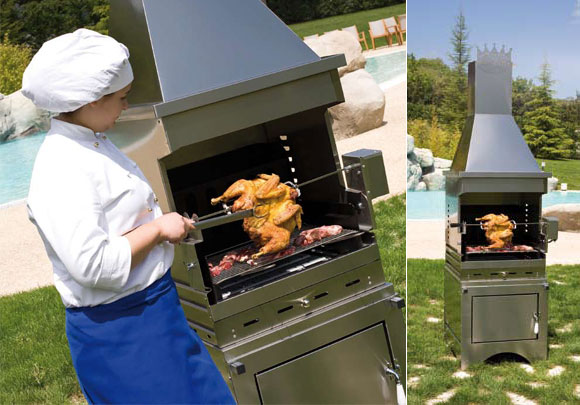 The real "Star" of outdoor grilling, the "Star" barbecue is the key focal point in the Wood product line. It is the right model for all those people who want to have an 'elite' product and want to cook wonderful grilled meals together with their relatives and friends.
It represents a perfect combination between the possibility of cooking every kind of food well and in a very simple and quick way, and it also has a refined and exclusive design. The "Star" barbecue is the perfect product for your garden, also acting as a refined piece of decor.
Made entirely in stainless steel, it is weatherproof, it also has a hood that suctions fumes and vapors generated while grilling food.
It is equipped with two different cooking levels, a large chrome plated grill and an ash-collecting drawer, resting on a trolley which can be used as a food-warmer or to keep the food you are cooking warm.
You can use both firewood and charcoal slack with our Star barbecue: the former gives a special fragrance to food, which varies accordingly to the type of wood being used (hourly consumption of about 2/3 kg), while the latter is more practical and easier to burn.
Dimensions (cm)
Model Code
Grilling Rack
A
B
C
D
E
F
STAR
59 x 35
66
63
60
80
100
240
Technical Specifications
Cooing Levels
2
Structure
304 stainless steel
Combustable Material
Firewood/Charboal Slack
Firewood Consumption
2/3 kg
Grilling Rack
304 stainless steel
Weight
100 kg
All Barbecues