Clementi Repects Nature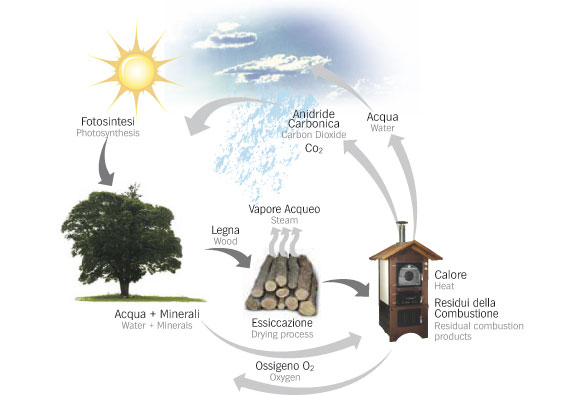 A Natural Cycle
The burning of firewood is a process in perfect harmony with the environment. Firewood is the only, truly renewable source of energy that is present in nature and that, if properly burned, emits the same quantity of carbon dioxide absorbed by a plant in order to thrive and grow. Burned in this way, it successfully takes part in the life cycle of nature: in fact, when firewood is burned, some carbon dioxide is emitted into the environment, which is then absorbed by plants through their leaves, by means of the chlorophyll photosynthesis process, therefore, other nourishing substances for the plant itself and oxygen for the environment are produced.
Clementi Repects Mankind
Clementi thinks and works for a clean future, using exclusively certified and non- toxic raw materials such as sheet metals, steels and refractory materials, which do not put your health at risk over time.
All of the insulation materials used are screened and their fibers do not occlude the respiratory tract.
Production slag, exhausted oils, and smudges are stocked in fireproof sealed containers, and their disposal is only carried out by certified and authorized (waste handling) companies.
We never discharge into waterbeds and we always filter and purify the air from the powders released into the environment, and in doing so, water is kept cleaner and air is kept purer.
We can only accept materials from suppliers who handle production slag in a way that fully respects the environment.