Master Line
Built-in Indoor/Outdoor Ovens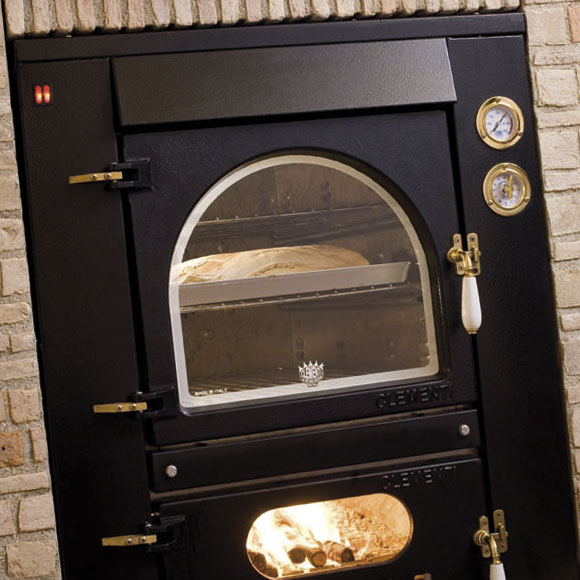 Winter rain and cold often puts people in a bad mood, forcing them to stay at home. However, " every cloud has a silver lining", and in fact staying at home gives people the chance to gather together. Lunches and dinners amongst family and friends can help to brighten up bleak winter days, because enjoying exquisite food always helps to improve one's mood, putting them on cloud nine!
Good food means happiness, but food needs to be cooked in an oven that has "flair" for it to be exceptionally delicious, and Clementi has the special talent needed in manufacturing built-in wood-burning ovens with special features!!!
Indoor oven with high-quality. It has a black struture and brown ivory walls. It is a classic which is always fashionable and it offers perfectly cooked food.
Dimensions (cm)
Clementi "Master Line" indoor ovens are available in four different models with the following internal dimensions:
Available Colours:
Black and Copper Plated
Oven and Trolley can be used separately
Model Code
Type
Depth x Width*
A
B
C
D
E
KgF1
KgF2
FINC 60
Oven
60 x 45
77
77
93
38.5
195
45
KITCARR 60
Trolley
60 x 45
65
FINC 80
Oven
80 x 45
77
96
93
46
240
47
KITCARR 80
Trolley
80 x 45
65
FINC 50
Oven
80 x 50
81
96
103
46
279
51
KITCARR 50
Trolley
80 x 50
65
FINC 100
Oven
100 x 50
81
115
103
53
327
51
KITCARR 100
Trolley
50 x 100
65
*Depth x Width of the Cooking Chamber
Technical Specifications
Ventilation
Plus System
Cooking Levels
3
Cooking Chamber
304 stainless steel, removable, scratch-resistant
Firewood needed to reach 300°C
5/7 kg
Firewood needed for hourly maintenance
1 kg
Contant Oven Heat
4 hours
Temperature for 8 hours from being put out
100°C
CO 13% O2
min 0.17 / max 0.32
All Built-in Ovens