Elite Series
Oven Stoves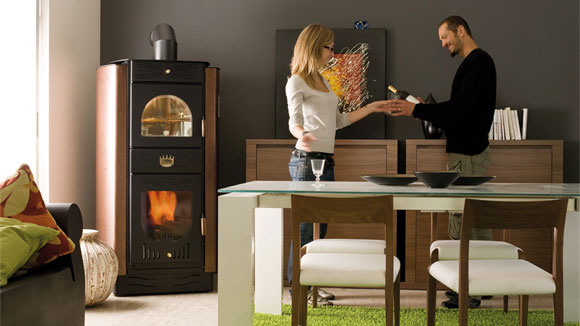 Heats, Cooks & Furnishes
The Elite Oven-Stove combines classic and traditional characteristics of ovens, that allow you to cook a variety of succulent dishes, with those of the functional aspects of the most efficient wood burning stoves, which can quickly and efficiently hear the entire house.
as a stove: to heat your home, throughout the coldest periods of the year
as an oven: thanks to its unique system, it can be used as an oven even during warmer seasons, necause heat will be channelled directly to the oven without being circulated throughout the house.
as an oven and a stove:to heat the home and cook food simultaneously.
The Warmth of Home
As a heating source the wood burning stove is the most convenient and inexpensive method of heating. When properly installed, it comsumes an inferior amount of wood, thus paying for itself within only a few years time. Especially for people who live in areas where liquid or gas fuel is especially expensive. Clementi oven/wood burning stoves represent a uniquye global solution for multifunctional heating, which is both exonomic and ecological. Plus its attractive design allows the stoves to fit the style of any home. The Hydro Elite Model model provides hot water for radiators and for domestic use
There are two different kinds of wood burning stoves used for heating (air and water), they come in various shapes and colours and have been designed with the idea that they need to fit room dimensions and can be coordonated along with the décor of most homes, to meet a variety of customer needs.
Air Heating
An air heating stove has a closed combustion chamber with a forced air inlet; it handles combustion by slowing and collecting energy thus turning it into heat. The heated air which is produced, will then be circulated to the adjacent rooms, as well as to other rooms through a simple net of channelled pipes.